Quick Links
---
Casino Pages
Casino Games
Player Reviews
Bingo Pages
Poker Pages
Other Pages
Alchemist's Lab Review
Set around a strange laboratory theme, the Alchemist's Lab slot machine is a run of the mill single-payline slot machine with an added bonus feature. One thing that we really like about this slot machine is that the stakes can be adjusted, which enables you to play at a level that youíre comfortable with. In a nutshell, the Alchemist's Lab slot machine is a fast playing and high paying slot machine thatís worth trying out at least once!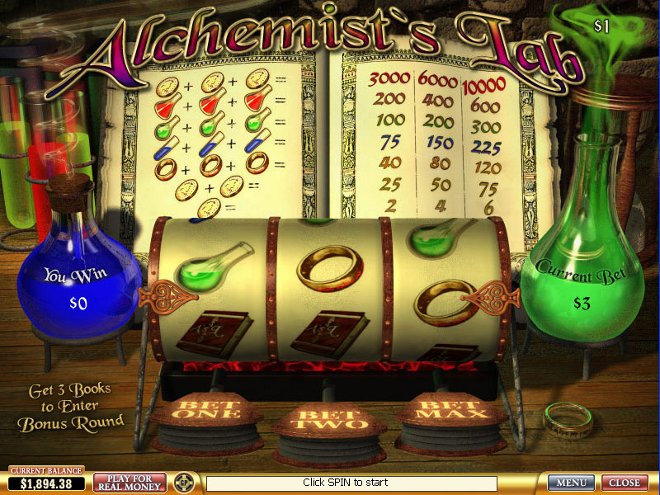 The most entertaining feature of the Alchemist's Lab slot machine is the bonus round feature. It is extremely easy to trigger the bonus round and the rules of the bonus round are actually quite simple! When you trigger the bonus round, you simply have to pick three bottles from the ones that are presented and the contents of these bottles are then put into a melting pot, which is used to make a gold coin. The value of the coin is then displayed and this value is credited to your balance as a bonus prize; itís that simple!

When playing the Alchemist's Lab slot machine, the top prize varies depending on how many coins you are playing. The base jackpot for playing one coin is 3,000 coins. If you are playing two coins per spin, the jackpot is raised to 6,000 coins. And by playing three coins, you can win 10,000 coins if you hit the jackpot, so it definitely pays to wager the maximum three coins per spin!
Player Reviews Of The Alchemist's Lab Slot Machine
I'm not generally a fan of this type of slot machine, but it actually wasn't too bad because it does have a bonus feature that paid quite well! I had the Alchemist's Lab bonus round feature four times in about 30-minutes, so it isnít very hard to get, which is a good thing! I would give the Alchemist's Lab slot machine a seven out of ten! - Tom

The Alchemist's Lab slot machine is a so-so kind of slot machine, so I definitely wouldn't rate Alchemist's Lab as one of the best slots out there. However, it does give out small wins on a pretty frequent basis and it has a bonus round too, so itís certainly worth playing once or twice just to see what itís all about. - Angela

I liked the Alchemist's Lab slot machine and the way I look at it is that if you are going to win, you will win regardless of which slot you play on. So by playing a fast paced game like the Alchemist's Lab slot machine, you will soon know whether your session is going to be a winning one or not! - Jackie
Where To Play The Alchemist's Lab Slot Machine
#1 - William Hill Casino


If youíre looking for a fun and exciting online casino that offers the Alchemist's Lab slot machine, look no further than William Hill Casino. They are powered by Playtech software and they have been around for years, which is why we never hesitate to recommend them to any of our website visitors! Right now, you can score a free $150 casino bonus when you signup and make your first deposit at this reputable online casino. You can then use this bonus money to play any of their great games; including the Alchemist's Lab slot machine! So head over to William Hill Casino today to get your free bonus money while this offer lasts!
Top Casinos
---