Quick Links
---
Casino Pages
Casino Games
Player Reviews
Bingo Pages
Poker Pages
Other Pages
Bermuda Triangle Review
The Bermuda Triangle slot machine is well equipped to give you some bang for your buck! It has 5-paylines in total and you are free to play as many paylines as youíd like on each spin. The Bermuda Triangle slot machine allows you to wager only one coin per payline, but to compensate for this, you can adjust the value of each coin should you feel like playing for big money!

One thing that we like to point out about the Bermuda Triangle slot machine is that it is not the most entertaining slot machine. As far as bonus round features go, you won't see any pick'em rounds or free spin features while playing this online slot machine. In fact, you won't find any additional features at all because this is a simplistic slot machine that doesnít waste your time with any of the bells and whistles that you see on modern slot machines.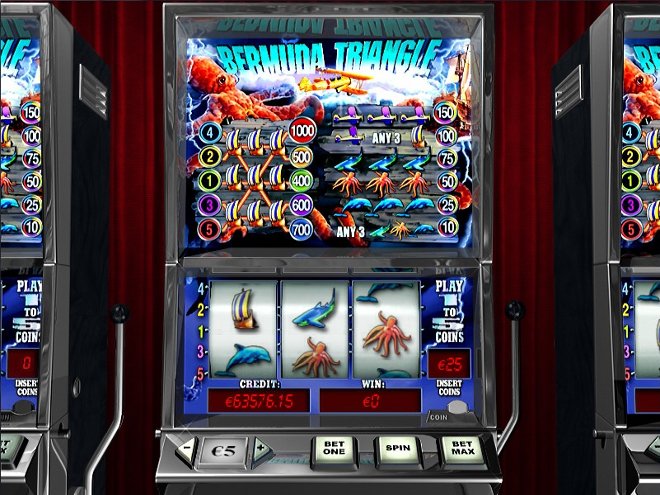 The Bermuda Triangle slot machine is the perfect game for anyone who is looking for a relaxing game that doesnít require you to think or make any decisions. Itís a straightforward game that actually produces higher payments on a regular basis to compensate for the fact that it doesnít have any bonus rounds!

Because the Bermuda Triangle slot machine has 5-paylines, you can win on more than one line per game should you be playing max lines! And with a little luck, you can win 1,000 coins should you line up the jackpot symbols on the 5th payline, so it does pay to play with max lines enabled.
Player Reviews Of The Bermuda Triangle Slot Machine
Did I find the Bermuda Triangle slot machine boring to play? Not at first, but after about 45-minutes of playing, it became a little bit boring. However, on my first spin, I won 150 coins and followed that up with a 50 coin win not long after! So although that made me a little biased, I did find myself warming up to the Bermuda Triangle slot machine. - Tish

The sound effects on the Bermuda Triangle slot machine are a little annoying, so I ended up turning the sounds off completely, which I seem to do on a lot of slot machines. Other than that, this slot machine is worth playing at least once or twice just to see what itís all about. - Tom

To give an honest review of the Bermuda Triangle slot machine, I would say it's sort of ok if you like easy to play games. However, I must admit that by winning in the first couple of spins, it probably swayed my judgment a little. - Angela
Where To Play The Bermuda Triangle Slot Machine
#1 - William Hill Casino


One of our absolute favorite places to play online slot machines, and the Bermuda Triangle slot machine in particular, is at William Hill Casino. They are powered by Playtech software and they have a fantastic reputation in the online gaming industry, which is why we never hesitate to recommend them to any of our website visitors! At the moment, they are currently giving away $150 in free bonus money to all new players who signup and make an initial deposit! This is a fantastic offer that wonít be around much long, so head over to William Hill Casino today to get your free bonus money while this offer lasts!
Top Casinos
---