Quick Links
---
Casino Pages
Casino Games
Player Reviews
Bingo Pages
Poker Pages
Other Pages
Crazy 7 Review
If you're in the mood to play a relaxing single-line slot machine, you won't find a slot machine that is as good as or as easy to understand as the Crazy 7 slot machine! The Crazy 7 slot machine is a basic 1-line slot machine that has three Crazy 7 symbols and a blank symbol. There are no cherries, no bells, and no wilds; just sevens and blanks!

The great thing about the Crazy 7 slot machine is that it can be played with one, two or three coins per spin and the top prize when playing max coins is 400 coins! The beauty of this slot machine is that it has no bonus features whatsoever; no nudges, no free spins, nothing! The reason why this is a good thing is because that means this game will produce larger regular wins on average compared to slot machines that are loaded with bonus features. Because this game doesn't have any bonus features, it doesn't have to compensate for the time wasted during bonus rounds, so it's able to payout larger wins on a more frequent basis!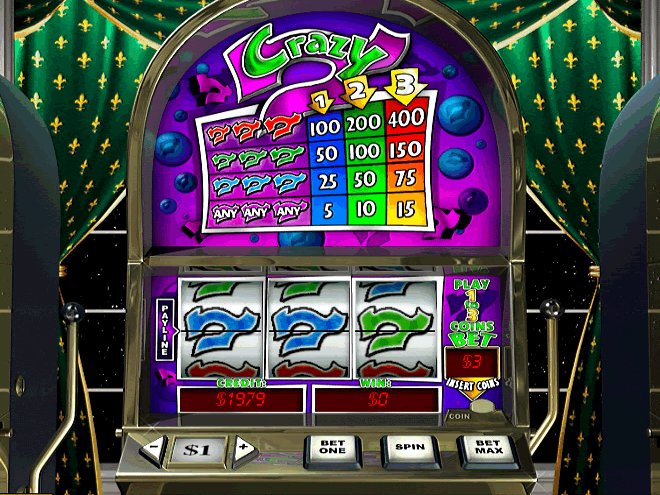 Although the Crazy 7 slot machine has a relatively low jackpot, it just means that it pays out more frequently! That's right; there no long gaps between the top prize being paid out, which is quite refreshing to say the least! The jackpot on the Crazy 7 slot machine is 100 coins when betting one coin, 200 coins when betting two coins, and 400 coins when betting three coins. As you can see, it definitely pays to play max coins when playing the Crazy 7 slot machine!

As with all the other slot machines that we have reviewed, you can change just about every setting to suit your needs; including the volume and the speed of play. Should you wish, you can use the autoplay feature if you feel like giving your mouse or fingers a break!
Player Reviews Of The Crazy 7 Slot Machine
At last I have found a machine that I like! No daft free spins or any of the other time wasting things that slot machines have attached to them these days. All you have to do is spin and win or spin and lose, which is the perfect way to play slot machines! - Simon

I didn't play the Crazy 7 slot machine for very long because to be honest, it's a tad boring. However, if you like simple slots with regular wins, then the Crazy 7 slot machine just might be the perfect game for you! - Tish

The Crazy 7 slot machine is the type of game that you'd find at your local bingo hall. The reason they have these kinds of machines is that they are quick playing and you can have quite a lot of games during the breaks. It's good if you are a bingo fan, as you can have your slot machine fix and then get back to the bingo! - Tom
Where To Play The Crazy 7 Slot Machine
#1 - William Hill Casino


At the moment, one of the best places to play the Crazy 7 slot machine and hundreds of other great games is at William Hill Casino. They are one of the oldest and most trusted online casinos, which is why we are happy to recommend them to all of our website visitors! The thing we like most about this Playtech powered online casino is that they are currently giving away up to $150 in free bonus money to all of their new players! So if you're ready to start playing the Crazy 7 slot machine online and you'd like to collect a free bonus in the process, head over to William Hill Casino today!
Top Casinos
---