Quick Links
---
Casino Pages
Casino Games
Player Reviews
Bingo Pages
Poker Pages
Other Pages
Royal Dice Review
The Royal Dice slot machine was one of the very first online slot machines, but it is still a favorite amongst casino players from around the world. It was created by Playtech, one of the leading online casino software providers, and it can be found at all Playtech powered online casinos.

The Royal Dice slot machine is rather unique because it features 5-reels and 5-paylines. At first glance, this online casino game can actually be a little confusing, but after playing just a few spins youíll quickly understand where the paylines are and what symbols you need to get to win!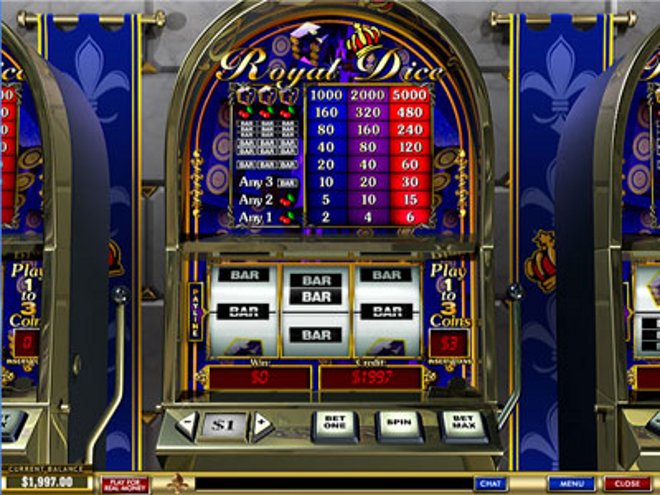 The best advice that we can give you when it comes to playing the Royal Dice slot machine is to study it for a few minutes until you get the hang of it. It wonít take you very long to learn the paylines and once you do, youíll be able to adjust your bet accordingly to maximize your winning potential!

Oddly enough, the Royal Dice slot machine doesnít have any bonus round features. This is considered by many to be a good thing because bonus rounds can often be confusing and time consuming!

You can play the Royal Dice slot machine for up to four coins per payline, which amounts to a maximum bet of up to twenty coins per spin. The stakes are fully adjustable, so you can always choose a sensible level to play at.

On the Royal Dice slot machine, the top prize is awarded for getting five Golden Dice symbols on any active payline, which will reward you with a respectable 2,000 coin jackpot! Itís safe to say that thereís not a whole lot to this game, but the Royal Dice slot machine is definitely worth playing at least once just to see what itís all about!
Player Reviews Of The Royal Dice Slot Machine
Iím probably not the best person to ask for a review of the Royal Dice slot machine because I tend to shy away from these kinds of games, but I must say that after playing this game for a few spins, it certainly seems like a game that virtually everyone will enjoy playing! - Julie

It took me a while to understand how much I was playing for on each line of the Royal Dice slot machine, but after getting the hang of things, I was able to relax and enjoy this game. Itís certainly unique and not like most other slot machines, but thatís what makes this game worth playing! - Ken

The paytable on the Royal Dice slot machine looks appealing, but this isnít one of my favorite games to play. Itís somewhat complicated and requires a bit of thinking, so Iíd only recommend this game to players who have some experience playing different types of slot machines. - Martin
Where To Play The Royal Dice Slot Machine
#1 - William Hill Casino


If youíre wondering where you can play the Royal Dice slot machine online, we highly recommend William Hill Casino. They are powered by Playtech software and they have hundreds of casino games to choose from; including slots, video poker, blackjack, and more! Right now, they are currently giving away up to $150 in free bonus money to all new players, so there has never been a better time to signup! Head over to William Hill Casino today to create your account and take advantage of this great offer!
Top Casinos
---